Septic Tank Pumping Serving Corsicana, Navarro County And Ellis County, Texas
Navarro County Septic Pumping is a septic tank pumping and vacuum truck services company based out of Frost, Texas and providing vacuum truck and vacuum trailer services throughout Corsicana, Navarro County and Ellis County.  Having any type of issue with your septic system can ruin your day quickly.  If you're searching for "septic tank pumping near me" then we're ready to come and help you right now!
We have a 1200 gallon septic pumping trailer and also a 2500 gallon pump truck.  Between the vacuum trailer and the pump truck we are able to access those difficult to reach septic systems.  We specialize in septic tank pumping, lift station pumping, RV park septic tank pumping, and non-hazardous liquid waste holding tank pumping.
We provide our septic and liquid waste pumping services to residential clients, commercial clients, agricultural clients, and industrial clients. If you have a septic tank, holding tank, or non-hazardous liquid waste then we can probably pump it out for you.
If you need your septic system pumped, our team can help you keep your septic system operating efficiently and trouble-free.
Your septic system is an important part of your property and represents a significant investment that many home and property owners take for granted.  It's easy to ignore something when we don't have to see it everyday.  You just expect your septic system to work and when it doesn't you need to act immediately.  With Navarro County Septic Pumping you can trust us to help maintain and protect your septic system to the highest standard.
Whether your septic system is backed up and causing problems, your septic system is just not working correctly, or it's time for regular septic system maintenance we'd be happy to help you.
If you would like to schedule your septic pumping service, please call (903) 875-5746 or fill out our online contact form and we'll get right back to you to schedule.
Services We Can Provide
If It Involves Wastewater Pumping We Can Probably Do It For You!
Click On Any Service To Learn More
Frequently Asked Septic Questions
If you have questions about your septic system and septic maintenance you might find the answers here.
We have a 1200 gallon vacuum trailer and a 2500 gallon vacuum tank truck.  We can pump septic tanks, lift stations, and holding tanks of varying sizes without having to make multiple trips.  If your tank size exceeds our capacity of any one truck then we can arrange multiple trips.  No matter how big your septic tank is we'll be able to pump it out for you.
This is a good question that we are often asked.  Generally speaking it's good practice to have your tank pumped out every 3-5 years.  If you have a larger home, with a large family and multiple bathrooms then your septic tank might need to be pumped every 3 years.  For commercial properties we usually recommend pumping annually or at least having an annual septic system inspection.
It's a good idea to pump any septic tank on a property that is involved in a real estate transaction.  If you are buying a new home or property that utilizes a septic system then get it pumped and inspected before you take possession.
Pumping your septic system at regular intervals reduces the amount of solid (sludge) build up in your tank.  When the sludge in your tank builds up it can make it's way into your drain field or clog outlets which result in a clogged sewer system or even worse a drain field that isn't working.
There are more than just one type of septic system located within our Texas service area.  It's helpful if we know what type of system you have before we are called out to provide pumping or service.
Conventional Septic Systems.
Chamber Systems.
Drip Distribution Systems.
Aerobic Treatment Units.
Mound Systems.
If you don't know what type of system you have we'll be able to tell you when we arrive on site.
Good Question!  Do you remember the last time your septic tank was pumped? It's generally a good rule of thumb to have the septic tank pumped out every 3-5 years for the average family of four.  If you have a suite on your property, lots of bathrooms or a much larger family, it can increase the frequency of your pump-outs.  Aside from the time lapsed between each pump out there are other signs that you should be looking for too.
Is sewage backing up into your home?
Do you notice foul odors from your tank or around your septic field?
Do you notice water pooling up around your septic field?
Another way to tell is to pop off the lid on your septic tank and to measure the scum and sludge layers.  The scum layer is at the top of your tank and should not measure more than 8-10 inches deep.  The sludge layer sits at the bottom of your tank and should not measure more than 12 inches deep.  These levels can be checked using a long piece of pipe or other measuring tool that can reach at least 10 feet.  We can do this for you if we're called to provide septic pumping services.
Our trucks are equipped with 150' feet of vacuum hose.  If we can get our truck to within 150' of your septic tanks we can pump them out.  If you think the distance will be further than 150', please let us know and our driver can come with hose extensions.  We try and stay off your grass under all circumstances as it's easy to get a heavy septic truck stuck.  If you have a specific route you'd prefer we take on your property please let our driver know.
Yes!  We do.  If you are having trouble with your septic system or you would like to know it's overall condition we can provide a thorough septic inspection.  Our inspections include a visual inspection of the tank and drain field, a visual inspection of the distribution box, any pump components, and we can also do drain field testing.
We can in some circumstances but generally try to avoid this smaller type of pump out.  If your RV is on an existing route we are servicing or at a local RV park we already service we might be able to help you. If you have an RV that needs pumping it's best to give our office a call (903) 875-5746.
Yes, we can provide tank and septic field location services.  It's not uncommon with properties that have changed hands many times to lose track of where the septic tank or components are.  We can use our electronic locating tools or our knowledge of septic systems to locate your tank and provide you with the location of your septic system.
Absolutely NOT!  On an almost weekly basis we are called to pump out septic tanks that are clogged and overflowing into the customers home.  Many times the issue is because baby wipes have been flushed down the toilet.  One or two wipes isn't going to cause a problem but when it's dozens, or hundreds of them over a period of months or years it will clog your system up and cause backups and potential damage to the system.  It is NOT a good idea.
The best way to maintain your septic system is to take care of it!  This means not flushing harmful chemicals down the toilet, don't flush or dump oil, fat, or grease down the drain.  Lastly, get your septic tank pumped out at regular intervals.  Pumping out your septic tank removes the solids from your tank that don't break down.  Your septic drain field was designed to treat waste water, not the solids.  This is why your tank should be pumped out every 3 to 5 years on average.
Experience The Navarro County Septic Pumping Difference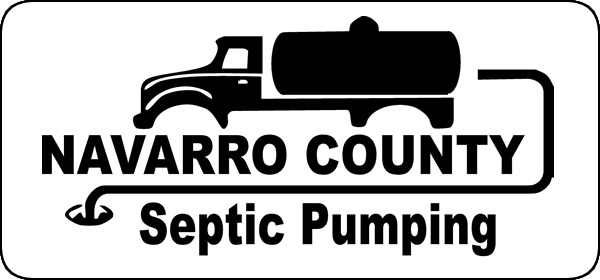 We're Not Like Every Other Septic Service In Navarro County, Texas